Hotel boss falls in love with Gong
14 July 2010; Illawarra Mercury; By Greg Ellis

The chief of Wollongong's new Chifley Hotel is busily making himself known after landing his dream job.
Adrian Teh said taking charge of a brand new hotel before it opened was every hotel manager's dream, but he still couldn't get over how lucky he was to secure such an opportunity in such an amazing location.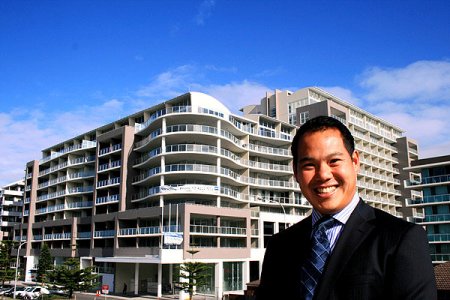 Sea change: Head of the Chifley in Wollongong, Adrian Teh, is
preparing for the hotel's opening. Picture: Ken Robertson
The new Chifley is located near WIN Stadium, WIN Entertainment Centre and Wollongong Golf Club on Harbour Street and is just 50m from the beach.
The hotel has 168 rooms magnificent views over the city to North Beach and beyond, a 140-seat restaurant with large windows facing north-east, lobby bar, mezzanine business lounge, 25m heated lap pool on the northern side of the building, gymnasium, lobby bar lounge offering casual dining and coffee, and nine conference and function rooms for weddings, conferences and meetings.
The 4 ½-star hotel and conference facility is scheduled to open at the beginning of September in time for the Australian Irish Dancing Championships, which are expected to attract 5000 people to the city for up to two weeks and inject $4.5 million into the Wollongong economy.
Mr Teh said the Chifley was already targeting business and leisure travellers interested in a brand new, high-quality hotel with modern facilities.
Early interest is strong, and he is presently interviewing for department heads before employing up to 40 staff before the opening.
Mr Teh said there would be opening specials, but the hotel was determined not to start a pricing war in the local accommodation industry.
He said Chifley will be a premium product and priced accordingly.
And the hotel's Grand Ballroom, which can seat up to 850 people, is expected to be very popular for weddings, social and business events.
Mr Teh's career started in Perth where he did a Bachelor of Business at Edith Cowan University before working in a number of hotels.
For the last six years he has worked for Toga Hospitality in Sydney, Adelaide, Newcastle and Darwin.
Mr Teh said Wollongong had a lot of potential for tourism.
"With the level of interest in the hotel I think we are going to get some very strong bookings," he said.
"When this came up I just saw it as a great opportunity.
"I have just fallen in love with this place.
"What we are trying to do is offer a fresh new product to the market.
"All the furniture and lights are going to come in the first week of August."