Rebirth of a landmark in sydney's Double Bay precinct
5 March 2010; Architecture & Design

A NEW chapter has been written in the 45-year history of The Cosmopolitan Centre in Knox Street in Sydney's Double Bay area. The seven-level Stamford Cosmopolitan residential and retail development has been completed at a cost of around $150 million. The specialty retail and dining precinct on street level has re-emerged, including the famous Cosmopolitan Café. The residential apartments are above street level with a landscaped garden and communal retreat on level five.
Apartments in Stamford Cosmopolitan feature a blend of traditional forms and modern detail, comprising contemporary elements, functional spaces and a palette of fine materials. This includes end-matched Pietra Grey and Carrara Italian slab marble, walnut timber joinery, and 220 mm-wide (8-inch) American Oak floorboards in all living and bedroom areas.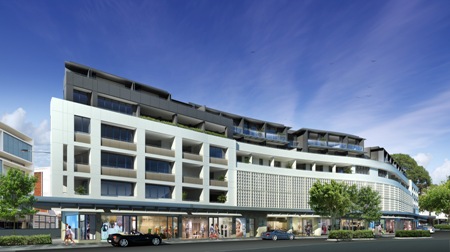 Each of the 28 apartments is unique, with individual floor plans and bespoke interiors. Ten apartments have already sold, including two to overseas purchasers. Among the sales are adjoining three-bedroom apartments on the top floor for $5.75 million and $5.5 million.
Still remaining are two-bedroom apartments from $2.25 million (117 sqm to 170 sqm internally, plus external areas from 18 sqm to 113 sqm) and three-bedroom apartments from $3.4 million (170 sqm to 232 sqm, plus external areas from 17 sqm to 147 sqm).
Tony Barron from Double Bay real estate agency, Barron & Dowling, says purchasers have come from as far away as Indonesia, as well as interstate buyers from Adelaide and Melbourne who are using their apartments as a Sydney base.
"With their oversized rooms, high ceilings and generous balconies and terraces, the apartments hold particular appeal for people planning to make their first move from a large house and garden. There is plenty of indoor/outdoor living and entertaining options, and an abundance of storage to ensure the transition from a family home is as seamless as possible. This even extends to the size of the passenger lifts which can accommodate three-metre long couches and large pieces of furniture," says Barron.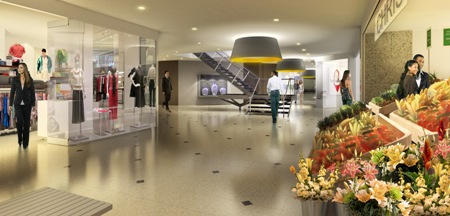 Built in the mid 1960s by Sir Paul Strasser, The Cosmopolitan Centre is the most prominent location in Double Bay, and development manager Stamford has been mindful of upholding its reputation.
The new structure follows the serpentine curve of Knox Street and has two separate and secure residential entrances, lobbies and lifts. One of its most striking external features is a folded and laser-cut aluminium screen that not only provides visual intrigue but cleverly camouflages the two levels of parking. This sculptural approach by the Kann Finch Group is a new twist on a technique pioneered in the 1950s by Austrian architect Erwin Hauer.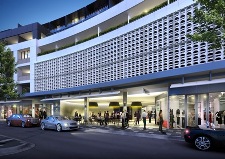 The building has a solid base of granite, rendered masonry and aluminium screens and sun shading. Apartments in these three lower levels are recessed into the stone façade and have boldly-defined, expansive and sheltered balconies.
By contrast, the upper two levels seem to float above the base – their linear form set back and defined by metallic blade walls, silver-grey aluminium window frames, cantilevered balustrades and vast expanses of glass. To further break up the visual bulk of the building and increase the natural light penetration into the apartments, fenestrations have been used to form a series of pavilions.
Project Details:
Developer: Stamford Property Services
Builder: Parkview
Architect: Kann Finch Group