An education, brick by brick
Sydney Morning Herald; 11 November 2010

NSW MBA Award - First Year Apprentice of the Year - Malcolm Miller, Parkview Constructions
MALCOLM MILLER took a roundabout route to becoming the Master Builders Association's first-year apprentice of the year.
The 28-year-old worked as a barrister's clerk, Australia Post delivery officer and a farmhand before settling on an apprenticeship in carpentry and joinery.
"I wanted to get a good, solid trade that would ensure my financial security and a recognised skill that would allow me to get employment anywhere in Australia," he says.
Parkview Constructions was ideal because the size of the company meant Miller could learn many facets of building. "Parkview has a level of respectability that smaller companies often do not have," he says.
One of the biggest challenges of being an apprentice is the risk of being used as a cheap labourer. From the start, Miller has been determined to avoid that.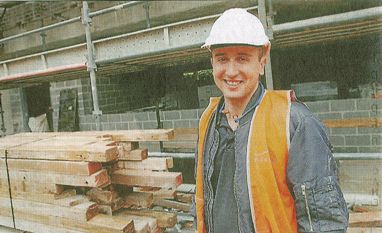 Malcolm Miller on site at Hornsby
"I try to make the most of my experience by learning as much as possible," he says. "I ask as many questions as I can; I talk to the subcontractors and get to know their jobs. Basically, I try to get involved in every aspect of construction."
Miller's enthusiasm has not gone unnoticed by his employer.
"Malcolm has good concentration and communication skills and listens seriously to what others have to say," says the human resources manager of Parkview, Wendi Williams. "He is a quiet achiever who is self-disciplined and dependable."
Miller is also known for his nerves of steel, attributed in part to his training in boxing and karate. "Physically, that has helped but the discipline and past experience of progressing from a low skill level to a higher level are experiences I had in martial arts that help in my apprenticeship role," he says.
According to Miller, one of the most satisfying aspects of the job is seeing the evolution of a building from a vacant site to something that can be lived in. "I like being involved in every step," he says.
Miller has managed to achieve excellent results at TAFE as well as on site, a balance many first-year apprentices fail to strike. But he says there is no secret to his success. "It's about being hard working, having a desire to learn and an ability to take instruction," he says.
In the short term, Miller is determined to make the most of every day on site and complete his apprenticeship. In the longer term, he wants to move into management.
"It all depends on how the apprenticeship turns out and the kind of learning path my employer puts me on," he says. "I'd like to be a finishes foreman eventually."