Kirra Surfing to Success
23-24 April 2006; Weekend Bulletin - REAL ESTATE
By Mathew Thomas
As part of an imminent $300 million development boom at Kirra, an $89 million project is earmarked for the site of the iconic Kirra Surf shop with a tower combining eight and 12 storeys joined by a modern, beach-themed commercial and residential district.
Kirra's iconic surf shop, Kirra Surf, will soon no longer be the humble surf warehouse that has drawn beach goers for decades.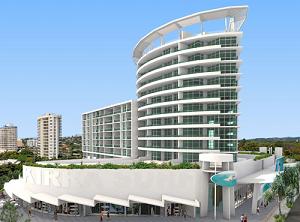 The shop is earmarked to be destroyed to make way for an $89 million, 12-storey tower and another eight storey one of the same name.
Construction is expected to start later this year and is estimated to be completed by 2008.
Kirra Surf apartments in Creek Street will be developed by joint venture partners, Urban Pacific, Macquarie Real Estate Equity Funds and The Parkview Group.
The 7030sqm site was amalgamated for about $5 million over a period of four years by Paul Jackson and Rhys Richards and Kirra Surf Centre, associated with former Gold Coast councillor Peter Turner, his wife Rhonda, and Rhys and Robert Richards.
The complex will comprise 79 two and three-bedroom apartments, nine sub-penthouses and three penthouses.
With prices starting at $650,000, apartments will range in size from 100 to 200sqm, including balconies. The penthouses and sub-penthouses will also have rooftop decks.
A cafe, restaurant and retail outlets will be on the ground floor, with underground parking.
The complex will also have a pool, gymnasium, sauna and barbecue facilities.
Macquarie Bank real estate capital state manager Scott Ponton said the building would make the most of Kirra's north-facing beach views and breezes.
"It will have unbelievable views of the beach and the ocean," he said. "It's a beautiful looking building.
"It will be an iconic building on an iconic site at Kirra's gateway."
Kirra Surf apartments is part of an estimated $300 million development boom for the area.
Mr Ponton said Kirra Surf apartments were certainly a sign of things to come for Kirra.
But he stressed that he was working hard to ensure that Kirra did not lose its 'village atmosphere'.
"Kirra is a terrific place," said Mr Ponton.
"I don't think it will necessarily change the face of Kirra at all. I don't think it would ever become another Broadbeach.
"We're part of a renewal and think it's quite a positive change. "The amount of development planned for the area, while substantial, won't change it that much and it will retain its unique village-type atmosphere.
"This development will act as a stimulus for further renewal that will have a positive impact."
Mr Ponton said Kirra Surf Apartments would showcase the site's north-eastern orientation and beach frontage.
"There is significant nostalgia attached to Kirra Beach. Our development is inspired by this relaxed living environment and its laidback, surfer lifestyle," he said.
"The apartments will offer views of the beach, Snapper Rocks and the Surfers Paradise skyline to the north.
"There is no doubt the southern end of the Gold Coast is popular with buyers so there is sure to be significant demand for a quality development in the tightly held Kirra area.
"We are expecting interest from buyers who want an easy-going beachfront setting different to Surfers Paradise and Broadbeach, and those who enjoy an active lifestyle.
"The fact that the original tenant of this landmark site, Kirra Surf; has endorsed the project, should also encourage local support."
Retail space will take up 2200sqm on the ground floor.
Managing property development projects with a value in excess of $5.3 billion, Urban Pacific Limited is a wholly owned subsidiary of Macquarie Bank Limited.
Kirra Surf apartments is the first development for Macquarie Bank on the Gold Coast.
The company is also working on joint venture with Leightons and the Gay Group, the $450 million Riverlinks estate at Coomera. Macquarie Real Estate Equity Fund is a series of unlisted real estate development funds, managed by Macquarie Bank.
Founded in 1997, The Parkview Group is an integrated property group with services ranging in design, development, construction and delivery to property sales and management.