High-rise developers going for gold at Rainbow Bay
1 August 2008, Gold Coast Bulletin

MANY other suburbs might be doing it tough, but investors are still reaping benefits out of Rainbow Bay.
The suburb has been dubbed the next Kirra, with more than $50 million of high-rise towers now under construction. The latest is the $13.9 million prestige boutique apartment complex Ciel Rainbow Bay.
The Alexander Property Group project will include eight single floor apartments and a penthouse spread over two levels on the only north facing view of the picturesque southern Gold Coast peninsula.
To be build by Parkview Constructions, the project is scheduled for completion in September 2009.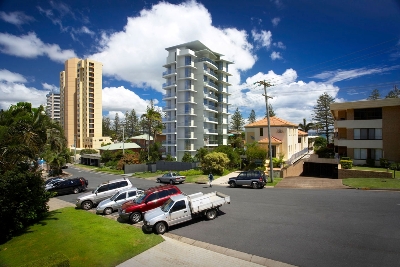 Alexander Property Group is counting on Rainbow Bay to be the Gold Coastís next property hotspot.
The company is building another boutique apartment project there, the $20.7 million Eden Rainbow Bay.
The two projects, along with the $20 million Maili being build by Nu Developments, make up a total of $50 million of development planned for the southern suburb.
Maili will comprise four townhouses, each with a plunge pool, five one-per-floor sky homes and two multi-level, premier penthouses in a 10-story tower.
Alexander Property Groupís marketing manager, Jude Johannesen, said Ciel marked the companyís first foray into the Gold Coast market and emphasized its belief that Rainbow Bay had massive untapped potential.
She said the tower had been designed to blend with the spectacular natural scenery of the bay.