Treasures at the end of Rainbow
31 October 2008, Leonie Brann, Tweed Daily News

RAINBOW Bay continues to lure cashed-up buyers to the Tweed with nearly $10 million of property already sold at the luxury $20.7 million Eden development.
The development is the second to be undertaken by Alexander Property at the beachside suburb. It is part of more than $50 million in apartment projects planned or under construction in the area.
The development's project manager, Sarah Browne, said that full-floor penthouse and a separate villa had already been sold.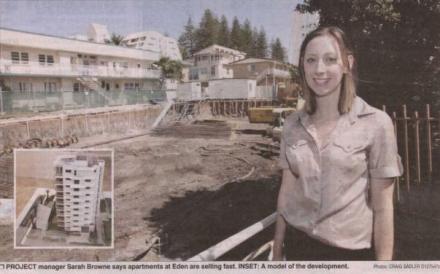 "In fact, with projects like Eden and our other Rainbow Bay development Ciel, we are finding the more expensive apartments are selling first.
"The level of inquiry has not dropped off since the launch of the marketing campaign in March this year.
"It just goes to show that these ends of the market that can afford multi-million dollar properties are not affected by the current global financial crisis."
The four-bedroom penthouse, complete with its own private roof-top terrace, plunge pool and entertainment area, sold for $2.4 million.
With its own private yard and plunge pool, the four-bedroom villa sold for $1.7 million.
The average price of nearly half of the 18 half-floor, two-bedroom apartments that will take up the first nine floors of Eden is $800,000.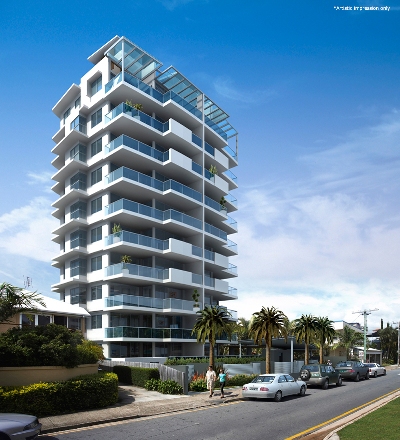 Each apartment features individual lift access to a private foyer, the latest in security and allow two small pets per apartment.
"Allowing pets has been a real selling point for the development, especially considering our prices are below other projects that have come or will come into the area." Ms Browne said.
Pole drivers and large machinery have been busy at the site, bordering Eden and Boundary Streets.
Construction of the 10-story development, being built by construction company Parkview, is now in full swing and expected to be completed by October 2009.
The lifestyle lure of the southern Gold Coast and the border region, as well as its close proximity to the Gold Coast Airport, and the opening of the Tagun Bypass, makes Eden and its sister development – the $13.9 million boutique Ciel, Rainbow Bay – attractive for investors.
"The majority of purchasers that are buying into these projects are baby boomers who are looking to move to the area after their retirement." Ms Browne said.