New Wollongong hotel to be run by Chifley Chain
23 January 2010; Illawarra Mercury

HOTEL chain Chifley has signed on to operate Wollongong's newest hotel, which could be open by the middle of the year.
Work on the hotel and apartment complex opposite WIN Stadium came to a halt when the Jempac group of companies folded with a debt of $191 million.
Originally marketed as City Beach Ocean View, it was purchased by Harbour StreetDevelopments late last year and construction restarted in November.
The director of Harbour Street Developments, George Callianiotis, told the Mercury the hotel was on track for a July 1 opening and would be branded as Chifley Wollongong.
Chifley operates 10 hotels around Australia, including properties in Newcastle, Alice Springs and Cairns.
It is part of the Constellation Hotels Group, which also operates Country Comfort, Australis and Sundowner hotels and resorts.
"Construction on the building is in full swing, on budget and on schedule with Parkview Constructions," Mr Callianiotis said.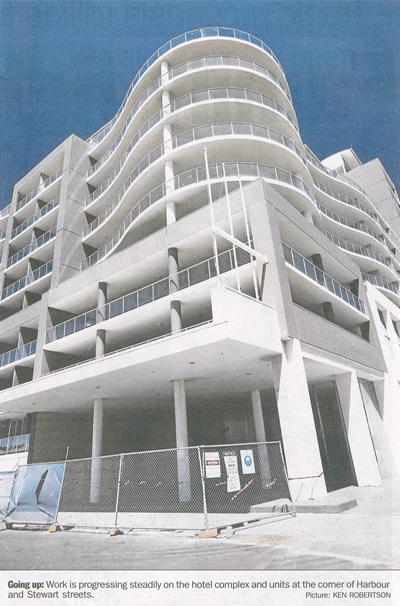 The 4.5-star hotel on Harbour St will have 168 rooms, as well as conference and leisure facilities.
"Our aim is to create a relaxed and friendly hotel that will complement the entertainment precinct of Wollongong," he said.
"The hotel will be focused on sport, health and entertainment while providing a first-class conference facility. We are planning to have the doors open midyear and have a few surprises in store."
Tourism Wollongong general manager Greg Binskin welcomed the announcement of the hotel operator and construction progress.
"It is important as a city that we keep developing infrastructure and this is infrastructure that creates employment," he said.
"Hotels or tourism related products actually create entry-level employment for youth and others in the community. This will help soften the impact of the high unemployment around the area," he added.
Mr Binskin said the availability of a new hotel provided a great opportunity to target even more conferences and big sporting events in the city.
The residential units attached to the complex are expected to be ready for occupancy by April.
During a two-week prerelease before Christmas, 55 units sold in the complex.
The remaining 20 units in the 75-unit complex will be placed on the market with agents Colliers International next weekend.
"There were a lot of disappointed potential buyers on our database that missed out prior to Christmas," Colliers International executive salesperson Julian Hall said of the pre-release.
"On top of this, there are still a lot of people that are only just noticing the recent progress of work to complete the complex and ongoing enquiry is strong."