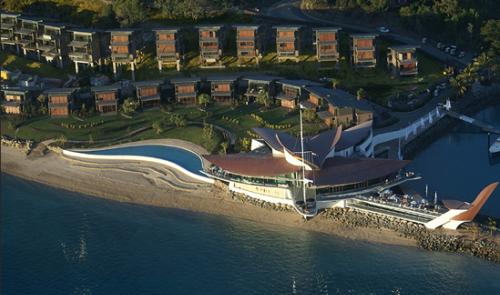 "To create a world icon building that will immediately identify this project as Hamilton Island", was the project brief from the island's owners and operators. A perfect example of Parkview's cutting edge design ingenuity is the Hamilton Island Yacht Club and Villas, the centrepiece for the marina precinct on the Island.
Designed to be a signature presence, both from the ground and air, the Hamilton Island Yacht Club will become an icon across the domestic and international landscape. From the tip of the aquamarine leaves of its patina copper roof, to its expansive cantilevered terraces that stretch over the waters of the Marina and Dent Passage, it is a design triumph that will become the centre of lifestyle and boating for the islands of the Great Barrier Reef.
Due to the fragile ecosystem surrounding the Island the importation of building materials and managing the challenging logistics of the project required careful preparation, construction planning and sophisticated erection techniques.
2010 QLD Australian Institute of Building Award
Professional Excellence in Building for Commercial Construction between $10 million and $50 million
Hamilton Island Yacht Club, Hamilton Island, QLD

Judging criteria;

Innovations developed to overcome difficulties

Degree of project difficulty

Relationship with client, architect, authorities, community and workforce

Quality of the completed project
Click here to visit www.hamiltonislandyachtclub.com.au