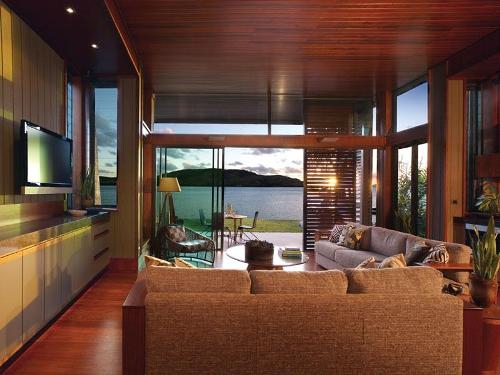 Elegantly draped around the Dent Passage waterfront within 5-star tropical resort surrounds, the Luxury Villas symbolize the new direction for Hamilton Island.
Designed by renowned architect Walter Barda with landscaping crafted by celebrity landscape designer Jamie Durie, the Villas will offer a unique blend of tranquil serenity.
The luxury Yacht Club Villas boast a superb waterfront position, offering every Villa breathtaking ocean views over Dent Passage. With a design emphasis on abundant solar access, privacy and space, each villa spans three to four levels according to position. Moments from the central marina area of Hamilton Island the Villas are set within a gated enclave with private access to a waterfront lagoon pool via a richly landscaped private road.
Exclusively linked to the Yacht Club, each inaugural Villa owner will be granted a Founding Membership to the Hamilton Island Yacht Club with access to an exceptional array of amenities and services including a Private Members Level and Members Health Club.
2010 QLD Australian Institute of Building Award
Professional Excellence in Building for Commercial Construction between $10 million and $50 million
Hamilton Island Yacht Club, Hamilton Island, QLD

Judging criteria;

Innovations developed to overcome difficulties

Degree of project difficulty

Relationship with client, architect, authorities, community and workforce

Quality of the completed project
Click here to visit www.hamiltonislandyachtclubvillas.com.au