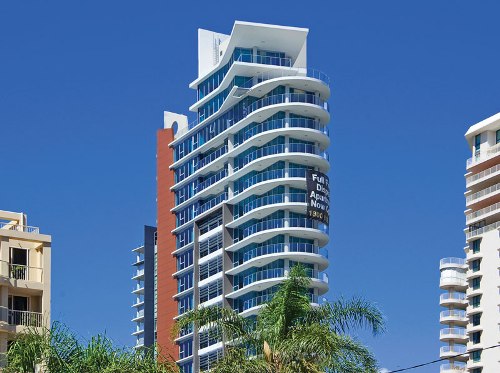 A new level of luxury is created by XXV Breaker Street's one-per-floor-homes - a level entirely representative of you and your lifestyle. Magnificent coastal architecture now awaits, just for you - at XXV Breaker Street, Main Beach.
Exclusive Main Beach is located at the northern end of the glamourous coastal strip of the central Gold Coast, and only a stroll away from the warm sands of the Pacific Ocean.
XXV Breaker Street – a masterstroke of architectural genius. Blue glass, gently sweeping balconies and soft golden tones combine to create an iconic exterior that will leave an indelible impression on the Gold Coast skyline.
The interiors announce unequivocally, in bold architectural statements, that this is an address to surpass all others. Incredibly chic finishes and neutral, soothing tones complete the handsome interiors, while entertainer balconies offer the expansive alfresco space mandatory in any luxurious coastal home.
Functional focal points for rest and retreat are also as fundamental to this icon as its good looks, with the lower levels boasting a lap pool, pool deck, spa, sauna, gym, residence lounge, landscaped alfresco barbecue area and secure basement car parking.
2010 HIA–CSR Gold Coast Housing Award
Apartment Project of the Year - Finalist
XXV Breaker, Main Beach, QLD
Click here to visit www.xxv.com.au